Below is the size chart for standard Cry Cry Cry garments. Please don't guess, measure yourself using the instructions below and compare to this chart.
If your proportions vary more than a few centimetres from the standard sizing, send me your measurements when ordering one of our custom made styles and you'll get a much better fit!
For example if your bust is a size MED, but your waist is an XS (or XL), the only way to have a well fitting garment is to use this option.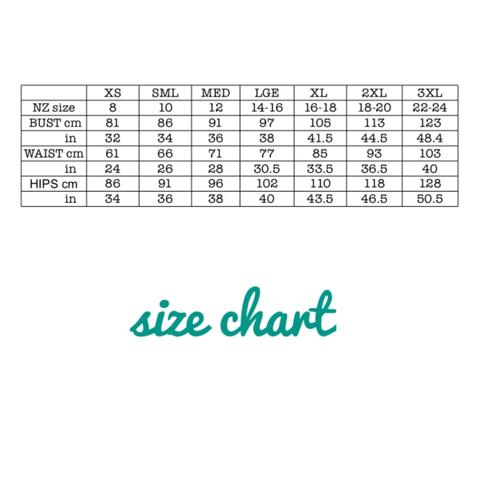 How to measure yourself

When taking your measurments, it's very important to make sure your tape measure is straight and parallel to the ground all the way around your body. Take the measurement from where the tape measure meets sitting comfortably on your body - don't pull it any tighter.
Bust:
Measure around the fullest part of your bust.
Waist:
The waist is a tricky thing, but it's normally around, or slightly above your belly button. If you are purchasing a skirt, this measurement will correspond with the waistband of the skirt, so measure around where you would want the skirt to sit on your body. Similarly for dresses, the 'waist' will be where the skirt of the dress begins to flair out from.
Hips: Hips can also be tricky, what I need from you is the measurement from wherever your lower half is biggest. This could be around your hips, or it could be a bit lower, around your bum or thighs. Basically, I just need to know what you've got to wiggle skirts up and over!
If you are unsure, ask a friend or family member who has dress making experience for help, or email me, Fran, at crycrycryclothing@gmail.com